2015 National Student Auditions Winners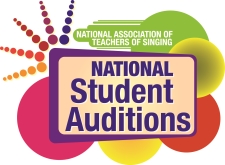 The finals of the 2015 National Student Auditions were held at the University of North Carolina at Greensboro on Tuesday, July 7. Winners were selected in 12 categories, along with second and third-place finishers, resulting in $30,000 in prizes being awarded.
This marked the second year for national semifinal and final rounds. As a result, more than $60,000 in prizes have been awarded to students of NATS teachers.
Below is a list of winners, by category: 
Category I – High School Music Theater Men
| | | | |
| --- | --- | --- | --- |
| Place | Finalist Name | Region | Teacher |
| 1st | Leo Plante | North Central | Jerome Elsbernd |
| 2nd | Chris Hutton | West Central | John Seesholtz |
| 3rd | Garrett Wilson | Mid-Atlantic | Beverly Vaughn |
Category II – High School Music Theater Women
| | | | |
| --- | --- | --- | --- |
| Place | Finalist Name | Region | Teacher |
| 1st | Macey Arrington | Southern | Chad Payton |
| 2nd | Claire Griffin | Mid-Atlantic | Kathryn Gresham |
| 3rd | Katie Glasgow | Eastern | Brenda Dawe |
Category III – High School Men
| | | | |
| --- | --- | --- | --- |
| Place | Finalist Name | Region | Teacher |
| 1st | Grayson Milholin | Mid-Atlantic | Carla LeFevre |
| 2nd | Erik Belz | North Central | Jerome Elsbernd |
| 3rd | Ricky Goodwyn, Jr. | Mid-Atlantic | Shelly Milam-Ratliff |
Category IV – High School Women
| | | | |
| --- | --- | --- | --- |
| Place | Finalist Name | Region | Teacher |
| 1st | Anna Lee | Southeastern | Ginger Beazley |
| 2nd | Lydia Graham | Mid-South | Mark Kano |
| 3rd | Anna Ginther | North Central | Jerome Elsbernd |
Category V – College/Private Music Theater Men
| | | | |
| --- | --- | --- | --- |
| Place | Finalist Name | Region | Teacher |
| 1st | Matthew Billman | Cal-Western | Wendy Hillhouse |
| 2nd | Craig Smith | Mid-Atlantic | Tommy Watson |
| 3rd | Noah Lindquist | West Central | Reginald Pittman |
Category VI – College/Private Music Theater Women
| | | | |
| --- | --- | --- | --- |
| Place | Finalist Name | Region | Teacher |
| 1st | Jacqueline Savageau | New England | Julie Krugman |
| 2nd | M. Sawyer Branham | Southeastern | Tonya Currier |
| 3rd | Gabrielle Fuqua | Southeastern | Tiffany Bostic-Brown |
Category VII – Lower College/Private Men
| | | | |
| --- | --- | --- | --- |
| Place | Finalist Name | Region | Teacher |
| 1st | Jared Jones | Southeastern | Stephanie Pierce |
| 2nd | Zachary Futch | Southeastern | Allen Henderson |
| 2nd | O'Neil Jones | Southern | Byron Johnson |
| H.M. | Ryan LeGrand | Northwestern | Allison Swensen-Mitchell |
Category VIII – Lower College/Private Women
| | | | |
| --- | --- | --- | --- |
| Place | Finalist Name | Region | Teacher |
| 1st | Jennifer Kreider | Eastern | Laura Brooks-Rice |
| 2nd | Gabrielle Barkidjija | Central | Karen Brunssen |
| 3rd | Kathleen Johnson | West Central | Kate Butler |
Category IX – Upper College/Private Men
| | | | |
| --- | --- | --- | --- |
| Place | Finalist Name | Region | Teacher |
| 1st | Hunter Aldridge | Mid-Atlantic | Brian Arreola |
| 2nd | Jacob Engel | North Central | Daniel Johnson-Wilmot |
| 3rd | Deon'te Goodman | Mid-Atlantic | Carla LeFevre |
| H.M. | Christopher Hochstuhl | Eastern | Charles Walker |
Category X – Upper College/Private Women
| | | | |
| --- | --- | --- | --- |
| Place | Finalist Name | Region | Teacher |
| 1st | Carol Anne Osborne | Southeastern | Christi Amonson |
| 2nd | Catherine Sandstedt | Central | Ann Harrell |
| 3rd | Kaileigh Riess | Central | Pamela Hinchman |
Category XI – Graduate/Advanced Men
| | | | |
| --- | --- | --- | --- |
| Place | Finalist Name | Region | Teacher |
| 1st | Jesse Melson | Texoma | Matt Oglesby |
| 2nd | David Sanchez | Central | Ron Witzke |
| 3rd | Gabriel Curl | Mid-Atlantic | Thomas Bumgardner |
Category XII – Graduate/Advanced Women
| | | | |
| --- | --- | --- | --- |
| Place | Finalist Name | Region | Teacher |
| 1st | Ashley Mispagel | North Central | Daniel Johnson-Wilmot |
| 2nd | Jessica Lynn | Mid-Atlantic | Ridley Chauvin |
| 3rd | Ahyoung Jeong | New England | Carole Haber |