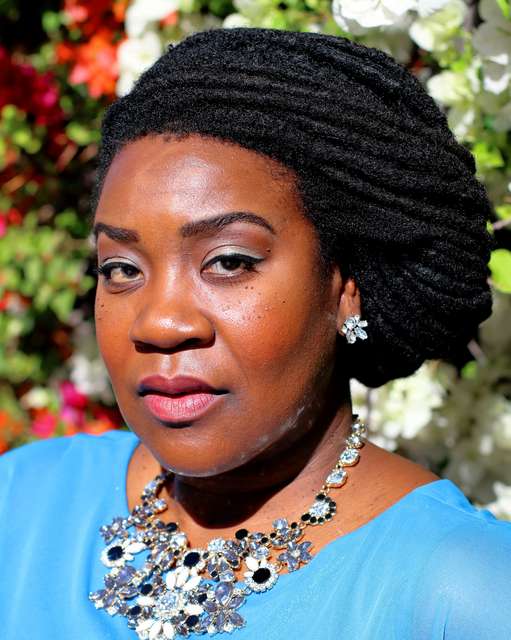 American mezzo-soprano Alexis Davis-Hazell is a clinician, presenter and singing actor of opera, concert and musical theatre repertoire in the Southeast United States. Her performances have earned accolades for the size and quality of her instrument, and the dramatic intensity she brings to supporting characters. Among the highlights of her singing career are the more than one hundred and thirty performances of The Gershwins' masterwork Porgy and Bess in numerous productions, including those produced on the eight-show per week musical theater-touring model. She gained an invaluable cultural and professional education singing the roles of Maria, Lily and Strawberry Woman as a principal and ensemble swing in opera houses throughout Germany, Russia, Poland, Greece, Latvia, Switzerland and North America. These performances include critically acclaimed productions at the Dresden SemperOper, Deutsche Oper am Rhein in Dusseldorf, Hamburgische Staatsoper, the Baden-Baden Festspielhaus, the Mikhailovsky Opera in St. Petersburg, the Moscow Philharmonic, the Polish National Opera of Warsaw, the Kuressaare Operadays Festival in Estonia, and the Palacio de Bellas Artes in Mexico City. Along with the celebrated production of Porgy and Bess at San Francisco Opera, she performed in their seminal production of Show Boat – both directed by Francesca Zambello, conducted by John de Main and shown in HD cinema release, marketed internationally on DVD and shown nationally on PBS. 
She continues to perform a diverse repertoire and relishes the opportunity to sing contemporary works. Alexis originated the role of Rachel in the world premiere of Joseph Landers' opera Let Us Now Praise Famous Men, with the Tuscaloosa Symphony in partnership with The University of Alabama Opera Theatre, broadcast on Alabama public television in September 2020. She also co-presents concerts blending classic and contemporary music, through production company Jazzoperetry, Inc. co-founded with her husband, Earl Hazell. Under their auspices, Alexis was headline artist presenting the first full concert of African American spirituals and gospel music at the Alfonso Ortiz Tirado Opera Festival in Álamos, Sonora, Mexico broadcast live by Radio Sonora on XHMOS 104.1 FM and video internet stream. Recent mainstage appearances include Mississippi Opera's Shattering the Glass and The Hilarious World of Gilbert and Sullivan, and Cincinnati Opera's productions of Porgy and Bess and Carmen.

She has served in leadership positions at chapter and regional levels for the National Association of Teachers of Singing (NATS) since joining in 2010. In the Phoenix metro area, Alexis served as Chapter Vice-President of Programs and Fall Workshop Chair (2011-2013), Chapter President and Student Auditions Co-chair (2013-2016), Chapter Executive Board Advisor and Fall Workshop Chair (2016-2018) and as a representative on regional nominating committees. Alexis attended her first NATS National Conference in 2014, made possible in part by travel funds provided by the NATS Emerging Leader Award, and an additional Presidential service award from the Valley of the Sun NATS Chapter. She was selected as a solo session presenter for the 55th biennial conference in 2018 (Acknowledging the history of Blackface Minstrelsy and its Persisting Legacy in Performing Arts Practice) and was privileged to be selected as a co-presenter for the 2020 Virtual Conference (My Sister's Keeper: A performance panel highlighting art songs by African American women composers). Alexis was a featured guest artist, masterclass clinician, and session presenter at the 2019 Cal-Western Regional Conference, instructing and demonstrating strategies for stylistic versatility and same-day multi-genre performance. She began service on the NATS National Membership Committee in 2016 and continues to coordinate the annual compilation and editing of best practices, policies, and leadership responsibilities in the NATS Member Recruitment & Retention Guide. In addition to this work, Alexis currently serves Southeastern Region NATS as Executive Board Secretary and serves on the American Negro Spiritual Category Official Repertoire Committee, the National Bylaws committee, and the Diversity and Inclusion Taskforce.
Dr. Davis-Hazell currently serves on the faculty of The University of Alabama School of Music as Assistant Professor of Voice and Lyric Diction and as a College of Arts and Sciences Leadership Board Faculty Fellow. She is a serial collaborator across disciplines and her research interests include: the impact of performing arts training on well-being for Alabama youth, the legacy of Blackface Minstrelsy in contemporary voice performance practice, promotion of vocal repertoire by African American women composers, and advocacy for Russian art song studies through improvement of curricula for lyric diction pedagogy. She holds degrees in Vocal Performance from Temple University (B.M. Hons.) and Arizona State University (M.M., D.M.A.)