Patricia Caicedo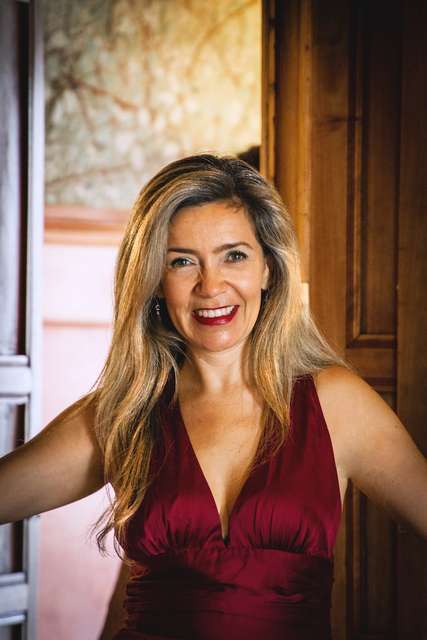 "My life's mission is to bring to light and to contribute to position the Latin American and Iberian art song, its composers and poets in the place of admiration and validation they deserve. I also want to contribute to rethinking the curricula of classical singers to reflect the diversity of the current historical moment."
Recognized as The Voice of the Latin American and Iberian Art Song and often described as its ambassador, Colombian-Spanish soprano and musicologist Patricia Caicedo has sung in the United States, Canada, Denmark, Holland, Italy, Spain, Portugal, Russia, Germany, Puerto Rico, and Latin-America.
Patricia is a true artist-scholar who combines research and performance, enriching each other. She has dedicated many years to research the Latin American and Iberian art song repertoire, bringing to light numerous composers and works who were previously hidden. Her interdisciplinary research seeks to contextualize the works and composers, studying them as a part of complex and entangled social networks. 
She has recorded nine CDs dedicated to the art song repertoire in Spanish, Catalan, Portuguese and indigenous languages. Most of her recordings include works recorded for the first time or works composed for her to premiere. Two of her CDs are exclusively dedicated to the music of women composers.
Patricia has published eight books with scores that include a bilingual introductory study that contextualizes the works and composers and provide IPA transcriptions and poetry translations. These books are available at www.mundoarts.com/books. 
Her more recent book, The Latin American Art Song: Sounds of the Imagined Nations, was published by Lexington Press in 2019.  
She is the founder of the Barcelona Festival of Song, a Summer Program & Concert Series focused on the study of the history and interpretation of the Latin American & Iberian vocal repertoire that is reaching its 16th edition in 2020. 
In 2017 Patricia was named an Honorary Member of the Brazilian Voice Teachers Association and their representative in Europe. She has served as a cultural ambassador for the Governments of Colombia and Spain.
Patricia regularly gives concerts, lectures, masterclasses, and serves as an artist in residence at leading universities in the United States. She lives in Barcelona and holds a Ph.D. in Musicology from the Universidad Complutense de Madrid and a Medical Doctor´s degree from the Escuela Colombiana de Medicina.