So You Want to Sing Cabaret: A Guide for Performers
By David Sabella and Sue Matsuki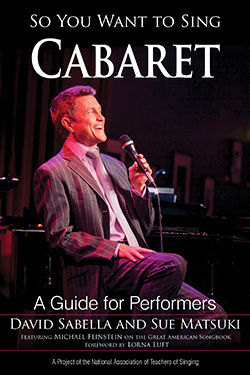 Cabaret performances are often known for bringing alive the Great American Songbook from the 1920s through the 1950s for contemporary audiences. But modern-day cabaret does much more than preserve the past—it also promotes and fosters the new generation of American composers and creates a uniquely vibrant musical and theatrical experience for its audiences. So You Want to Sing Cabaret is the first book of its kind to examine in detail the unique vocal and nonvocal requirements for professional performance within the exciting genre of cabaret.
With a foreword by cabaret legend Lorna Luft, So You Want to Sing Cabaret includes interviews from the top professionals in the cabaret industry, including Michael Feinstein, Ann Hampton Callaway, Roy Sander, Sidney Myer, Jeff Harner and many others. There are also chapters devoted to crafting your show, lyric connection, "do-it-yourself" production and promotion, and working with your musical team. David Sabella and Sue Matsuki have crafted the perfect one-volume resource for both the aspiring cabaret singer and the singing teacher who seeks to learn more about this unique art form.
The So You Want to Sing series is produced in partnership with the National Association of Teachers of Singing. Like all books in the series, So You Want to Sing Cabaret features online supplemental material on the NATS website.
Series: So You Want to Sing
Rowman & Littlefield Publishers
June 2020 
978-1-5381-2404-8 • Paperback • June 2020 • $40.00 • (£24.95)
978-1-5381-2405-5 • eBook • June 2020 • $38.00 • (£24.95) (coming soon)
Pre-order - Use code 7A30AUTHF for 30% off