So You Want to Sing World Music: A Guide for Performers
Edited by Matthew Hoch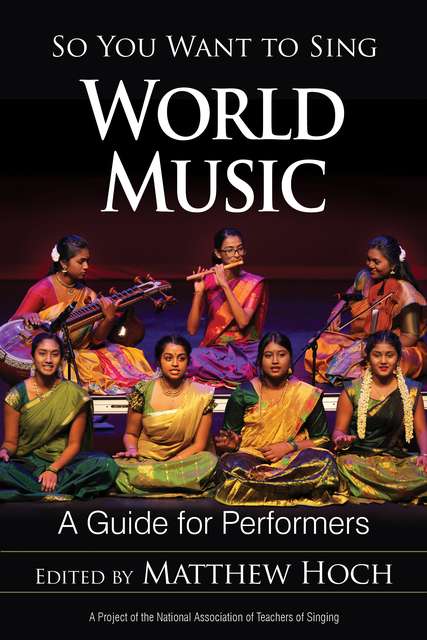 In recent decades, world music styles have been making increasing inroads into Western popular music, music theater, choral concerts, and even concert hall performances. So You Want to Sing World Music serves as an essential compendium of these genres while also offering technical approaches to singing non-Western styles.
Matthew Hoch gathers a cohort of expert performers and teachers to address singing styles from across the globe, including Tuvan throat singing, Celtic pop and traditional Irish singing, South African choral singing, Brazilian genres, North Indian classical singing, Native American vocal music, Mexican mariachi, Lithuanian Sutartinės, Georgian polyphony, Egyptian vocal music, Persian avaz, and Peking opera. Additional chapters offer resources for soloists and choral directors as well as primers on voice science, vocal health, and audio enhancement technology.
The So You Want to Sing series is produced in partnership with the National Association of Teachers of Singing. Like all books in the series, So You Want to Sing the World Music features online supplemental material on the NATS website.
Series: So You Want to Sing
Rowman & Littlefield Publishers
October 2019 • 434 pages
978-1-5381-1684-5 • Hardback • October 2019 • $105.00 • (£70.00)
978-1-5381-1227-4 • Paperback • October 2019 • $47.00 • (£31.95)
978-1-5381-1228-1 • eBook • October 2019 • $44.50 • (£29.95) 
Pre-order - Use code 7A30AUTHF for 30% off