What's New > Let's talk vowels and posture
posted on 11:55 AM, November 2, 2021
A Q&A with Winter Workshop presenter Justin John Moniz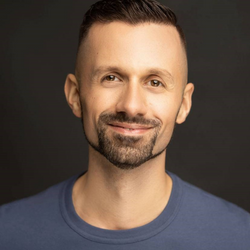 Justin John Moniz
While "Matters of Style" is the focus of our upcoming Winter Workshop (January 7-9), we'd be remiss not to squeeze in some fundamentals for singing teachers.
Enter Justin John Moniz!
Moniz currently serves as associate director of vocal pedagogy and music assistant professor of vocal performance at New York University's (NYU) Steinhardt School. He leads the graduate vocal pedagogy program, teaches courses in pedagogical theory and practice, applied voice, and directs the NYU Steinhardt Pop/Rock Ensemble.
He's presenting two valuable sessions — one to help teachers assess posture issues in the studio and another that explores using a vowel-driven approach to meet the demands of today's music.
---
We're so lucky you'll be presenting two sessions at our upcoming Winter Workshop! Tell us a little about yourself and your background.
I studied classical voice through all of my formal training and earned my doctorate in vocal performance from Florida State University. I have always had a passion for musical theatre and popular music, however, and have balanced a career singing and teaching across a wide range of genres. What I've found through my work in the world of vocal pedagogy, is that we — the voice community at large — lack a comprehensive understanding and systematic approach to training singers in popular styles. I've also discovered the many myths and falsehoods that tend to permeate the conversations surrounding popular styles. As such, I've made it my mission to construct a user-friendly, efficient, and sustainable approach that is built upon evidence based practice, voice science, and physicality. As a voice teacher, researcher, and NASM Certified Personal Trainer, I am particularly passionate about identifying the parallels between the worlds of voice science and sports medicine, more specifically concerning vocal load, efficiency, and sustainability.
What can attendees expect to take away from your sessions?
If I've done my job correctly in either session, attendees will walk away with a systematic approach to working with singers in the applied voice setting. It is also my hope that attendees will leave with more questions than answers. No one of us alone holds the key, but it's through our continued and collective exploration of new concepts that we are able advance the world of vocal pedagogy and performance.
Sounds great! Attendees have the opportunity to sing and receive feedback during your second session, correct? Can you list a few examples pop/rock cuts that use the upper-belt?
Pop/Rock & Drop It will be presented in two parts — theory and application. The latter portion will allow pre-selected participants an opportunity to put the theoretical components of the class into practice. I'm looking for brave singers who are willing to be vulnerable and explore their upper-belt in front of our live audience. Tunes such as "Barracuda" (Heart), "Dream On" (Aerosmith), "Love Is A Battlefield," (Pat Benatar), or "If I Were A Boy" (Beyoncé), would all be great options. Singers can submit anything from 70s rock to hip-hop, and R&B.
(Note to those who are interested in singing: For consideration, please prepare a 32-bar pop/rock cut that utilizes the upper-belt voice and send the video recording to justinjohnmoniz@nyu.edu no later than Dec. 10, 2021.)
This is going to be so much fun! What are some common misconceptions about today's music that your second session ("Pop/Rock and Drop It") will address?
First of all, perception is key. What we hear on the radio — or even in live settings these days — is an incredibly altered final product. The human voice is a resilient instrument, but I often find myself engaging in conversations with singers who are working to manipulate the mechanism in ways that are not efficient or sustainable — all in an attempt to create a sound or an aesthetic that is otherwise impossible to replicate without the aid of audio technology and enhancement.
Good points for all of us to remember. Let's talk posture for a bit. Prioritizing proper posture with students seems straightforward, but is bad posture rampant with students? On average, do you think you are observing more poor posture and alignment than in the past?
Optimal posture allows for an individual's body to be aligned in a manner that decreases stress on bodily tissues and joints. However, due to a lack of postural awareness as well as general work environments that support sedentary behaviors, many individuals suffer from complications including back pain, spinal dysfunction, and joint degeneration. As we emerge from life in isolation and online instruction, it is absolutely necessary to reassess and realign the mechanism in our students. I have found many singers suffering from postural issues that were not present pre-pandemic. More specifically, excessive head and neck tension has emerged as a common issue, often attributed to prolonged screen exposure. As a result, singers are creating sound with excess constriction in the vocal tract and increased sense of pressure. This session is designed to help attendees identify the necessity for posture and movement assessment and explore the appropriate steps for conducting such assessments within the context of the voice studio.
We've got to ask about *style* since that will be our theme for Winter Workshop. How does style play a role in your teaching, and how do you help your students cultivate their own sense of musical style?
As I so often remind my singers, technique is the foundation that enables the style to exist. Technique is a replication of process. When executed correctly, singing authentically in different styles requires a consistent manipulation of one's technique. It is through technical precision that authenticity in a particular style can be fully realized.
Thanks, Justin! Can't wait to learn more at both of your sessions!
---
Don't miss two sessions by Moniz:
"Reconstructing the Physical Framework: Identifying Postural Distortion Patterns in Singers"
"Pop/Rock and Drop It: A Vowel Driven Approach to CCM Pedagogy."
Not only will you have the chance to hear Moniz but also a fantastic group of presenters at our 2022 Winter Workshop (January 7-9) in New York City at the Manhattan School of Music. Early bird registration deadline is November 15. Don't delay, register today!