What's New > Q&A with Renee Namakau Ombaba
posted on 4:09 PM, November 7, 2022
Presenter at the 2023 NATS Winter Workshop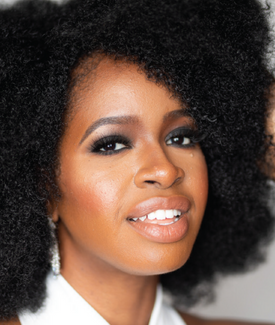 Renee Namakau Ombaba
Renee Namakau Ombaba is leading "Social Media for the Singing Teacher" and "Branding Your Studio: Making Your Studio Unique in a Competitive World" at the 2023 NATS Winter Workshop in Miami.
We are thrilled you will be presenting at the NATS 2023 Winter Workshop! Tell us a little about yourself, and give us a quick overview of your two sessions.
I was raised in Jackson, Mississippi, and moved to the DMV (District/Maryland/Virginia) in 2015. Born to Zambian and Kenyan parents in Lowell, MA, I learned my love for music at an early age. I enjoyed banging on the piano while my mom cleaned our home church in Jackson. Noticing my interest in music, my mom enrolled me in piano lessons at 9. By the age of 12, I began telling many of my friends that I was an opera singer. I often took on the persona of an opera diva. To fulfill my dream, I earned my bachelor's degree in vocal performance from Jackson State University in 2012. In 2014, I diversified my studies by earning a master's degree in Southern Studies from the University of Mississippi. I currently work for the Emmett Till Interpretive Center as an Advancement Officer and run the blog Black Women in Opera.
My first workshop will discuss how singing teachers can use social media for their benefit. This will be an overview of all the possibilities with social media and how to use them. My second workshop will focus on branding for your studio. With so many studios and opportunities available for students to learn, how do you make sure your studio stands out?
Social media is an important and serious business tool these days. Would you say most voice teachers are embracing the power of social media now? If someone is still hesitant to dive in, what advice do you give them?
Not a lot of teachers are using the full potential of social media for their benefit. The only teachers I know who use social media are younger teachers and YouTube famous teachers. If you're intimated by social media or furthermore, don't feel that it is for you, you have the power to use social media as a tool for your studio. Anything is possible, and I'll teach you how to make it work for your needs and desires. 
Branding can be an investment. However, you suggest it can "set you apart from other studios." Do you have any success stories or examples that you like to share with folks to encourage them to build up and formalize their branding and marketing efforts?
My favorite example of how branding works is from a trending social philosophy. It states that you can go down the water aisle in the grocery store and see many brands of water. They are all water, but you have your favorites for a reason. Even with so many brands, there's still a market for new brands of water that fill in the gap. My greatest form of encouragement is empowering my clients to know their own power. There's some student who is looking for you. How can they find you if you're not accessible? 
Do you recommend attendees do any pre-reading or pre-work leading up to the conference?
No prior reading is necessary. You can come in with any level of knowledge. I will share everything from the basics to the algorithm. You will leave having so many things to work with for your studio. 
Is there anything else you would like to add about your sessions or the workshop as whole?
Join me. It will be a great time. My goal is have fun while you learn about social media and branding. 
Thanks for your time. We can't wait to learn more in Miami.
---

Don't miss Renee Namakau Ombaba as she presents "Social Media for the Singing Teacher" and "Branding Your Studio: Making Your Studio Unique in a Competitive World" at the 2023 NATS Winter Workshop along with our other presenters in Miami, January 6-8.
Save money by registering early. Early-bird deadline has been EXTENDED to Saturday, November 12, 2022 at 11:59 p.m. ET. ($249 NATS member rate; $279 after November 12). Don't delay, register today!