What's New > Q&A with Ting-Yu Chen
posted on 12:13 PM, October 27, 2020
Dr. Ting-Yu Chen is leading "Leveraging Your Physical, Emotional, and Spiritual Wellness to Reduce Stress and Enhance Your Holistic Wellbeing" at the 2021 Virtual Winter Workshop.
We are so looking forward to your presentations at the 2021 Virtual Winter Workshop. What can attendees hope to take away from your sessions?
I am really excited to be invited to teach for the 2021 NATS Virtual Winter Workshop, with the overall theme being Moving Forward: Teaching, Singing, and Self-Care during COVID-19. I have designed and named my workshop "Leveraging Your Physical, Emotional, and Spiritual Wellness to Reduce Stress and Enhance Your Holistic Wellbeing." This is the first time I am combining multiple areas of my interests and expertise including dance/movement, health and wellness coaching, and Reiki in one package. 
We will start with a health and wellness check in to enhance our self-awareness and acknowledge our needs for the moment. I will then lead a guided meditation to help us relax and connect with our inner strength and wisdom. I will share a simple and accessible concept and practice to help attendees increase their body awareness that is relevant for singing. Then, I will lead gentle movement exercises and pressure point tension release strategies to reduce stress to increase ease and flow for the mind and the body. I plan to give time and space for attendees to develop action plans to their own self-care routine that will bring joy and is sustainable. Attendees will be encouraged to bring a pen and paper as well as a yoga mat and a 36-inch foam roller (High-Density: LINK, or low-density: LINK).
I hope attendees will take away not only stress reduction strategies from my workshop, but also the ability to discover and commit to their own plans to move forward with their physical, mental, and spiritual wellness.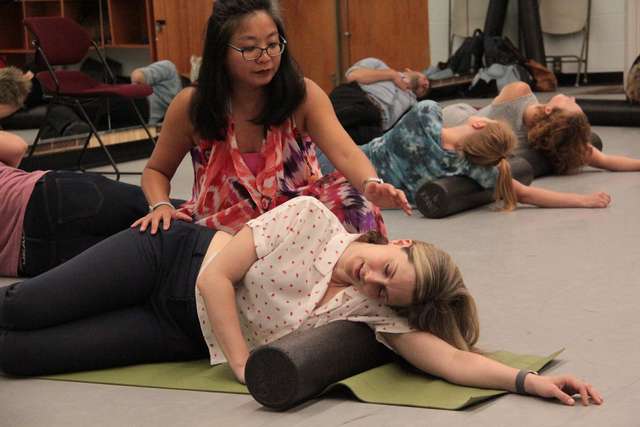 Chen teaching tension releases strategies on foam rollers during CCM 2019. Photo credit: Larry Brown.
That sounds amazing right now. You mentioned guided meditation. What is a major misconception about meditation?
Often misconception about meditation is born out of missing data, a lack of understanding about meditation. There are many meditation forms and techniques that serve different purposes. Most people associate meditation being done seated, but there are movement mediations (i.e. Tai-chi and Chi-kong). Some forms of meditation aim to promote awareness of our mind and body in the present moment as is to gain clarity, understanding, and acceptance of ourselves and the world around us. Some use guided imagery promotes positive thinking and self-affirmation for self-improvement.
To explore further about meditation, and specifically coming from the "misconception" point of view, I recommend reading "10 Misconceptions About Mindfulness Meditation" by Charles A. Francis (link; Huffpost). I have also found "Well: How to Meditate" by David Gelles (link; NY Times) pretty comprehensive. 
As for me, I have discovered many activities that I love such as making tea ceremony, painting, and cooking that allow my mind and body to unite and be fully present, therefore slipping into the flow and joy of meditation! In this state of mind, I feel relaxed and alert at the same time!
Wow. I love the idea of being relaxed and fully present at the same time. Can you give us a sample exercise from your session?
Sure, I'm happy to provide an example of the kind of experiential exercises and activities that I will share. Please note that all the movement exercises will be done in a slow pace with respect to the attendees' individual range of motion without any forceful external manipulation. They are not about physical exertion but more about awareness building similar to the approaches to Alexander Technique, FeldenKrais Method, and Tai-chi.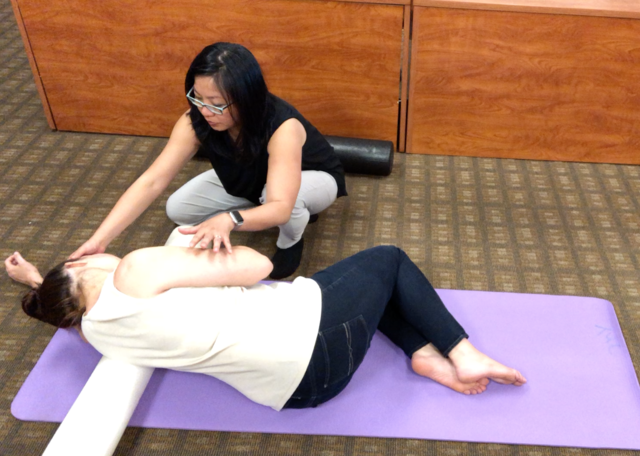 Chen teaching tension release on a foam roller. Photo credit: Ting-Yu Chen.
Example:
A series of gentle stretching, pressure-point tension release, and neuromuscular training exercises will be done on a foam roller. This series of exercises focuses primarily on muscular tension release in the common problematic areas for singers including shoulder/neck, ribcage, and hip areas. This activity is about releasing muscle tension so that the skeletal structure can return to its neutral position with ease. Think more like getting massage therapy than exercise for fitness at the gym.
All the experiential movement exercises are designed to liberate the body from conscious or unconscious tension holding patterns while appropriately attune the physical and energetic systems of the body. They aim to enhance breath support, freedom in the head-shoulder relationship, and ease in the hip sockets, knees, and ankles for singing and moving. 
With self-care being part of the theme for this year's workshop, tell us how you define "self-care."
My definition of self-care is that I am intentionally doing or undoing things that will help me arrive at a more desired level of health and wellbeing in multiple dimensions: physical, emotional, mental, spiritual, relational, career-wise, financial, and environmental.
Do you have any success stories of people you have worked with who developed a better mind/body routine?
I have received many positive self-reports from former workshop participants of the CCM Vocal Pedagogy Institute at Shenandoah Conservatory. I am always grateful to hear how my body/mind awareness teaching has not only helped them reduce stress and enhance their singing, furthermore, they have been passing it onto their students and loving their transformation as well!  
I am looking forward to seeing how the new workshop that I have designed for 2021 Virtual Winter Workshop will benefit singers and voice teachers!
Watch a preview of Dr. Ting-Yu Chen's session below.
Learn more and register for the 2021 Winter Workshop today. Read more about Dr. Ting-Yu Chen.