What's New > Reopening, unmasking, & face-to-face teaching
posted on 12:30 PM, April 16, 2021
April 2021 guidance on singing from NATS Executive Director Allen Henderson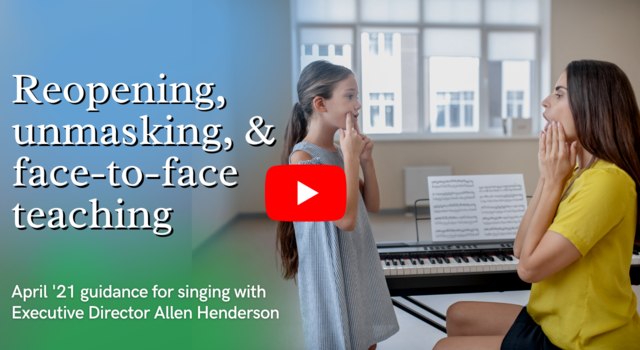 ^ ^ Click video above to watch. ^ ^
In conjunction with World Voice Day, NATS Executive Director Allen Henderson gave a live update on April 16 in response to questions about reopening, unmasking and face-to-face teaching.
Summary points:
The official line based on science and what is really happening will continue to diverge in the coming days. 
Prepare yourself to handle the pressure and uncertainty of reopening your studio on your terms. 
We all must manage our risks moving forward. 
Let's rip the band aid off and talk about what is really happening out there. No shaming allowed.
Thank you all for what you do, and know that NATS stands with you. We encourage all members to keep up your efforts to #FightTheFatigue.
For more, visit our COVID-19 Resources page.