What's New > Summer Workshop to offer overview of Nordic vocal music, Icelandic diction
posted on 9:43 AM, April 25, 2023
A Q&A with presenter Colin Levin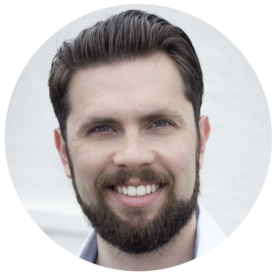 Colin Levin
At the 2023 NATS Summer Workshop (July 7-9), Colin Levin will present "The Foundational Nordic Vocal Literature Repertory" and "An Introduction to the Repertory and IPA of Iceland."
Register online or call the NATS executive office at 904-992-9101. See schedule and details.
We're delighted you'll be part of the 2023 NATS Summer Workshop! Tell us a little about yourself and what you will be sharing during your workshop sessions.
My name is Colin Levin, and I specialize in both the performance and research of Nordic vocal literature, with a focus on the repertoire and lyric diction of Icelandic art song.
Here is the "short version" of my story: I was introduced to Swedish art song when I spent a winter term in Gothenburg, Sweden, in 2007 when I was an undergraduate student at the Oberlin Conservatory. I immediately fell in love with the sound world of Scandinavian song, so studied it further in graduate school at University of Illinois: Champaign-Urbana with Dennis Helmrich. I narrowed my focus to Icelandic art song following an artist-in-residence position at the Landakotsskóli in Reykjavík, Iceland, during the spring of 2017. During the pandemic is really when I began to disseminate this information: I began to teach Nordic diction and repertoire through classes on Zoom, which led to being invited to present at both conferences and universities in both North American and in the Nordic countries. I now use these teaching opportunities to not only spread this wonderful repertory, but also use it as a platform for spreading repertoire diversification as much of the music is written by queer and female composers.
My first workshop session will be focusing on a general overview of the repertoire of the Nordic countries, including Sweden, Denmark, Norway, Finland, Iceland, and the Faroe Islands. I will be presenting them through a common theme: the national oral literary traditions and folklore. The Icelandic Sagas and Eddas, the Finnish epic the Kalavela, and the folk tradition of trolls, elves, nøkken and other mystical beings pervade the vocal literary traditions. Plus, in what other musical tradition can you get a gossipping squirrel sung by a coloratura soprano? (This refers to the creature Ratatosk who runs up and down the life tree of Yggdrasil in movement three of Faroese composer Sunleif Rassmusen's Symphony No. 2 "The Earth Anew.")
My second workshop session will focus on the music and lyric diction of Iceland. I will begin by examining a historical overview of the vocal literature. My focus will largely focus on the contemporary scene, as Iceland is extremely active in the continual creation of new works. I will then cover the basics of how to pronounce the Icelandic language. Everyone will be able to pronounce "Eyjafjallajökull" with ease! I will finish the session by teaching a song in Icelandic. I don't want to give away too much about this one yet, but the song can be sung by anyone; it's famous in Iceland as being performed by classical and pop singers alike!
Sounds great. When introducing Nordic repertoire to those who may be unfamiliar, where or how do you often start?
I typically start with getting the ear adjusted to what I like to call the "Nordic sound." I usually start with an orchestral excerpt, usually Swedish composer Gösta Nystroem's Symphony No. 3 or María Huld Markan Sigfúsdóttir's tone poem Oceans. I then introduce a few vocal literature composers from each country who typify the "Nordic sound" as well as sources to find sheet music, lyric diction, etc.
Is there any pre-reading or listening that would benefit attendees prior to the workshop sessions?
Not necessarily, but it may be helpful to listen through Finnish composer Jean Sibelius' Luonnotar op. 70. It is a good introduction to the sound world. Also Iceland composer Jórunn Viðar's vökuró, which you can listen to either in the original art song version with voice and piano, or sung by Björk on her "Medúlla" album!
Are there other presentations at the workshop that you are looking forward to attending yourself? Anything else you would like to add?
I am going to try and attend as many other workshops as possible. Almost all of the information being presented is new for me — for instance, I have no previous exposure to Korean or Catalan art songs, so I'm very excited to learn more! 
Here are a few of my recent and upcoming projects: 
April 2023
Society for the Advancement of Scandinavian Study Conference 
Austin, TX
Lecture-Recital: "The Treatment of LGBTQIA+ subjects in Nordic Art Music"
Colin Levin, Baritone
Evan Fein, Piano
Fredrick Österling - Bögtåget (F*g-Train)
*Halldór Smárason - Fjallkonan 2018 (The Woman of the Mountain 2018)
* - Workshop of premier, based on drag queen Gógó Starr being selected as the Fjallkonan during the National Day of Icelandic in 2018
May 2023
Nordic Center in America: Scandinavia House
New York, NY
Nordic Art Song Recital
Colin Levin, Baritone
Evan Fein, Piano
Featuring works by Edvard Grieg, Jean Sibelius, Jórunn Viðar, Eli Tausen á Lava, Evan Fein, Fredrick Österling, Jón Leifs, and the World premier of Halldór Smárason's Song Cycle Fjallkonan 2018, written for Colin Levin.
June 2023
Við Djúpið Music Festival
Ísafjörður, Iceland
Colin Levin, Baritone
Evan Fein, Piano
Icelandic premier of Halldór Smárason's Song Cycle Fjallkonan 2018
Summer 2023
American-Scandinavian Foundation Fellow for 2023-24
Research in Iceland
I will be collaborating with contemporary Icelandic composers for both performing new works and building a historical record of contemporary vocal literature, in addition to preparing and performing a new edition of Jórunn Viðar's final song Gátur fyrir konunga in partnership with her daughters.
I have further recital performances in Sweden in August, and I will be spending much of the time focusing on building a historical record of the vocal literature of the Faroe Islands, while simultaneously working on a guide to Faroese lyric diction.
---

Don't miss your opportunity to explore lots of diverse repertoire with us at our 2023 Summer Workshop. From uncommon gems of American Negro Spirituals and lesser-known musical theatre rep, to Nordic, Catalan, and Korean art songs, living composers, hip-hop and pop/rock, we've got so much in store.