What's New > Explore musical theatre rep with Keely Phillips-Carter this summer
posted on 11:31 AM, April 18, 2023
A Q&A with presenter Keely Phillips-Carter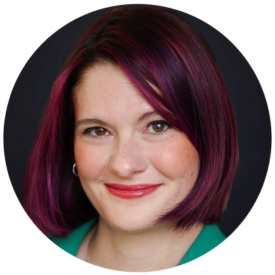 Keely Phillips-Carter
At the 2023 NATS Summer Workshop (July 7-9), Keely Phillips-Carter will present "The Flops, the Forgotten, & the 'Fly by Night': Exploring Musical Theatre Rep" and "So You Need a Song For ____."
Register online or call the NATS executive office at 904-992-9101. See schedule and details.
We're counting down the days until the 2023 NATS Summer Workshop and so happy you'll be part of it! Tell us a little about yourself.
Sure! I am a woman who grew up in a small town in south Georgia who was very lucky to be exposed to the arts through an incredible community arts board. I fell in love with musical theatre at the age of 7 and began devouring all things Broadway as soon as I could buy my own CDs. I went to school at the American Musical Dramatic Academy in NYC, which further developed my skills as a singer and my love for lesser-known musicals. I chose to further my vocal education at Valdosta State University with a voice degree and began advocating for "crossover" singing, a.k.a. people interested in both classical and musical theatre roles. I moved to North Carolina and opened my own voice studio in 2014, continuing to devour all the cast recordings I could listen to. During the pandemic, I realized how good I was at finding repertoire selections and under-loved scores, so I began to make that part of my business and used TikTok to promote myself.
Very cool! Your first session, "So You Need a Song For ____," is such a clever title and so real. What do you hope attendees walk away with after this session?
Thank you, I really do enjoy that title; it's definitely how many text messages from colleagues begin! I hope that attendees are able to find new songs to use for themselves or their students. Additionally, I am hoping to answer a few repertoire questions in real time, so if I don't cover those needs with my pre-selected packets and categories, someone attending will be able to ask me for a type of song and I'll be able to recommend a few options on the fly.
For your second session, "The Flops, the Forgotten, & the 'Fly by Night': Exploring Musical Theatre Rep," if you had to guesstimate, how many songs do you think you'll share with us? How do you personally like to study and discover all of this musical theatre repertoire?
Ooooh. So At the moment, my plan is to discuss four to six musicals per section and each show will have multiple songs per entry, so I would guess I will be sharing anywhere from 30 to 50 songs for the lecture. As to how I find them, well, that's something I plan to discuss as well ; - )
Sounds great. So, what are some common misconceptions about musical theatre rep?
That's a good question... I think ultimately the thing I end up saying the most is that "there is a genre of musical theatre for every voice and every perspective." I think teachers can get overwhelmed by how much musical theatre can sound the same and not really be able to hear the nuance and beautiful differences shows can have. For example, YES, there's a lot of pop/rock being written (which is fantastic!), but there's still gorgeous material being written for more legit, fuller voices that can be found. I also find that many students now don't wanna sing the old stuff, because they think it cannot apply to their modern day lives. I really enjoy taking some lesser-known music by Great American Songbook and Golden Age composers and showing my high school/college students that the stuff from 100 years ago still can really resonate, if you know what to look for.
Are there other sessions at the workshop that you are looking forward to attending yourself? Anything else you would like to add?
I am incredibly excited to be amongst so many interesting lectures and very much look forward to Melissa Foster's rock session as well as Colin Levin's discussion on Nordic Literature.
For the latest, please feel free to follow my TikTok or Instagram; both can be found @kpcvoicestudio

Don't miss your opportunity to explore lots of diverse repertoire with us at our 2023 Summer Workshop. From uncommon gems of American Negro Spirituals and lesser-known musical theatre rep, to Nordic, Catalan, and Korean art songs, living composers, hip-hop and pop/rock, we've got so much in store.