What's New > 2023 National Student Auditions Winners
posted on 9:24 AM, July 11, 2023
Winners received more than $44,000 in prizes this year
The National Association of Teachers of Singing is pleased to announce the 2023 winners of the National Student Auditions (NSA).
NATS held the final rounds live on Friday and Saturday, July 7-8, in conjunction with the NATS Summer Workshop at San Diego State University. Musical theatre categories were held Friday, July 7, and the classical and American Negro Spirituals categories were held Saturday, July 8.
NATS invited finalists from each of this year's 21 NSA categories to take part in the 2023 national final round. (View 2023 finalists and semifinalists.) The top 3 semifinalist singers from each category advanced to the national final round. More than 305 top young vocalists from around the world advanced to the semifinal rounds, with 63 participating in the final rounds. In total, winners received more than $44,000 in prizes this year.


2023 winners of Musical Theatre NSA Categories
This year's NSA categories included the American Negro Spirituals categories since it is an odd-numbered year (or non-conference year), alternating with the Hall Johnson Spiritual Competition in even-numbered years (conference years).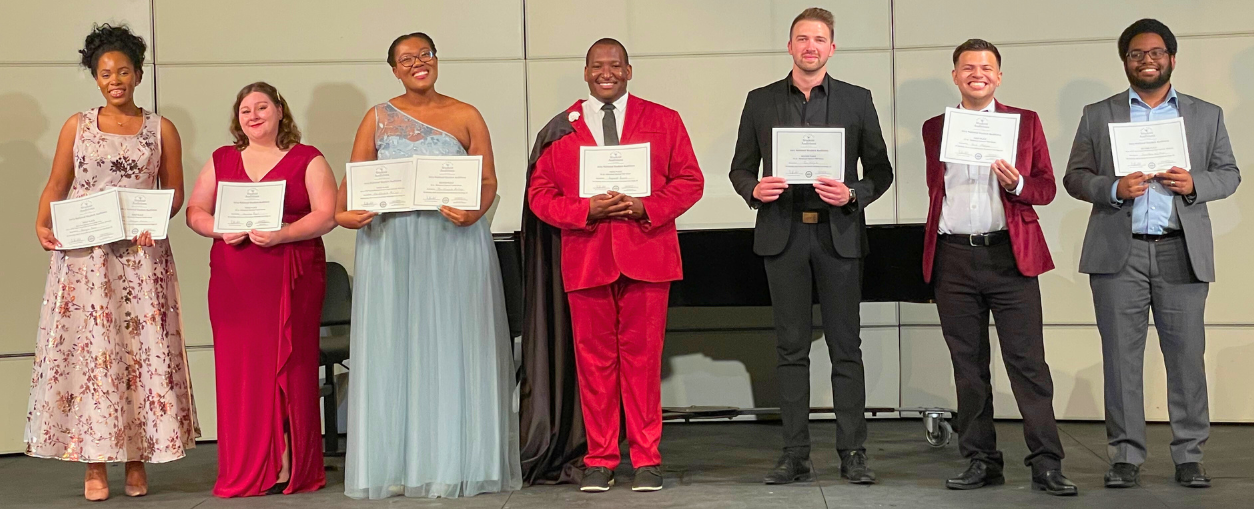 2023 NSA Winners of Advanced Classical and Fourth/Fifth Year thru Graduate American Negro Spirituals categories
Sponsors of the American Negro Spirituals awards included the High School First Place in each category presented by the North Carolina Chapter of NATS; the First thru Third Year College Age (First, Second, Third Place in each category) presented in honor of Sr. Thea Bowman by Daniel Johnson-Wilmot; the Fourth/Fifth Year College Age thru Graduate First Place in each category presented by presented by the American Spiritual Ensemble.
New this year was the addition of the Roberta M. Stephen Memorial Scholarship, in honor of the founder of the first Canadian NATS chapter. This award was presented to singer Erin Lee for an outstanding performance of a Canadian art song in the college-age categories.
The Dorothy Sawatski Prize was awarded to this year's first place of the lower classical treble voice category, Poppy Teague. NATS member and former member of the NATS Board of Directors, Nita Herrick-Colpitts, again provided the prize in honor of her teacher Dorothy Sawatski who was a charter member of NATS Southern Region and served as its region governor for several years.


2023 winners of Classical and American Negro Spirituals NSA Categories
Staff collaborative pianists for 2023 were Sarah Amos and Suzanne Shick.
Final Rounds adjudicators for 2023 were Diana Allan, Carole Blankenship and Alexis Davis-Hazell.
NSA Auditions Team for 2023 included Alisa Belflower, Mark McQuade and Dan Johnson-Wilmot.
Special thanks to all NSA coordinators, NSA committee and subcommittee members, adjudicators at all levels, NATS donors, San Diego State University, collaborative pianists, and to all of the NATS members and student singers.
---
View Program of Musical Theatre Categories (Friday)
View Program of Classical and American Negro Spirituals Categories (Saturday)
Congratulations to all for another great year of NSA!
2023 Winners: Musical Theatre Categories
2023 Winners: Classical and American Negro Spirituals Categories