Exhibit!
2016 Advertising/Sponsorship Kit: View or download  l  Rate Card Only
Learn more about: Advertising  l  Sponsorship  l  Exhibitor Showcase  l  College Showcase l  NATS Bonus Program
CANCELLATIONS: Written notice of cancellation of any reserved space must be received by NATS prior to April 1, 2016. The full amount paid to NATS will be refunded less a $50 processing fee. Cancellations received after exhibit space is assigned are not eligible for refund. All refunds will be issued after the event has concluded.
Reserve your space/advertisement in Chicago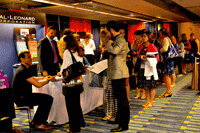 Exhibiting at the 54th NATS National Conference will put you in touch with the more than 1,000 teachers, students, leaders, and other industry experts who will be in attendance in Chicago! They will come to learn, gather ideas, and shop. Many will cite the exhibit hall among the conference highlights—creating a prime opportunity for exhibitors to make strong impressions. The exhibit hall is a central aspect of every NATS conference, attracting more than 50 vendor/exhibitors each year. Exhibiting is easy, effective, and rewarding. Showcase your products. Build relationships with teachers and students. Network with colleagues. Meet face-to-face with the people who influence decisions and put your products and services to practical use.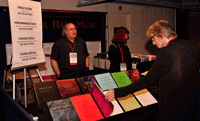 Opening Reception In Exhibit Hall: In addition, the official conference social kickoff takes place inside the exhibit hall! On Friday, July 8, from 5:30 to 7 p.m. the opening reception is held in the exhibit hall to allow attendees and exhibitors an opportunity to mix and mingle.
Exhibit Hall Hours: Friday, July 8 (5-8 p.m.); Saturday and Sunday, July 9-10 (10 a.m. to 6 p.m.); Monday, July 11 (9 a.m. to 12 p.m.)
Exhibitors Schedule:
Friday, July 8 - Exhibitors Move-in: 10:00 am - 4:00 pm
Friday, July 8 - Exhibits Grand Opening: 5:00 pm - 8:00 pm
Saturday, July 9 and Sunday, July 10 - Exhibt Hall Open: 10:00 am - 6:00 pm
Monday, July 11 - Exhibit Hall Open: 9:00 am - 12:00 pm
Monday, July 11 - Exhibitors Move-out: 12:00 - 4:00 pm
---
Exhibitor Services Order Form (Marriott Chicago Downtown Hotel) - Use this form if you need to order extra services for your exhibit booth, such as equipment, telephone, electrical or Internet services.
Exhibitors will receive an exhibitor kit from our Exhibition Services Company GES in the spring before our event.
---
Deadlines: The deadline to reserve exhibit space is March 15, 2016; the deadline to reserve additional exhibitor badges is June 1, 2016. DEADLINE HAS BEEN EXTENDED. WE HAVE A FEW SPACES STILL AVAILABLE. CONTACT US!
| | | |
| --- | --- | --- |
| Product | Details | Price |
| Exhibit Booth (8x10) | Includes two exhibitor badges | $575 |
| Additional Exhibitor Badges |  Reserve until June 1, 2016 | $125 |
Exhibitor Showcase Sessions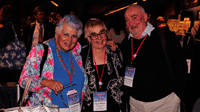 NATS is pleased to offer exhibitors the opportunity to present sessions during the 54th National Conference. Take this opportunity to showcase your products and services, provide educational enrichment, address technology in the classroom or studio, or any topic of your choosing! Reaching current and potential customers/subscribers/teachers/students with in-depth information or hands-on instruction in a guaranteed session is a great way to enhance your brand and get additional face time during the conference.
Opportunities are available to exhibitors at designated 30-minute and 45-minute time slots on a limited basis. Sessions will be held in theater-style ballrooms with A/V capability. Showcase rooms will include a piano, lectern, and microphone. Additional equipment is the responsibility of the exhibitor.
Exhibitor Showcase Times:
Saturday, July 9 8-8:45 a.m. 12:10-12:55 p.m. 1:10-1:55 p.m.
Sunday, July 10 8-8:45 a.m. 12:10-12:55 p.m. 1:10-1:55 p.m. 5-6 p.m.
Monday, July 11 8-8:45 a.m. 12:10-12:55 p.m. 1:10-1:55 p.m. 5-6 p.m.
Deadline: The deadline to reserve exhibit space is March 15, 2016.
Reserve your space/advertisement in Chicago
| | | |
| --- | --- | --- |
| Product | Details | Price |
| Premium Showcase | Dedicated time slot - 45 minutes | $595 |
| Regular time slot (evening only) | Simultaneous time slot - 30 minutes | $495 |
College Showcase -
SOLD OUT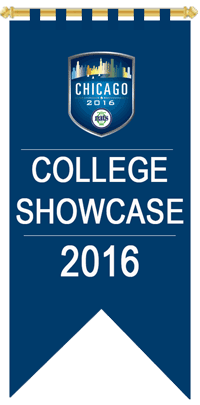 Did you know that more than 500 students, and with many of them their parents and teachers, will be in attendance at the 54th National Conference in Chicago? The semifinals and finals of the NATS Artist Awards, National Music Theater Competition, and National Student Auditions will each take place during the conference. What better time could there be to get in front of these rising stars to introduce your school and its undergraduate and graduate programs?
The inaugural College Showcase will take place on Friday, July 8, 2016, on the day of the NATSAA finals, the National Music Theater Competition semifinals and the National Student Auditions check-in date.
College Showcase participants will receive a table and two chairs at the Showcase location, a copy of the student attendee list at the conference with contact information, an e-blast to all competitors, and an insert in the student information bag that will be distributed at check-in. 
Deadline: The deadline to reserve exhibit space is March 15, 2016.
Reserve your space/advertisement in Chicago
Capacity: Only 20 spaces are available. - SOLD OUT
| | | |
| --- | --- | --- |
| Product | Details | Price |
| Showcase Booth - Non-Exhibitor | Table, Student List, E-Blast, Insert | $500 |
| Showcase Booth - Exhibitor | Table, Student List, E-Blast, Insert | $200 |