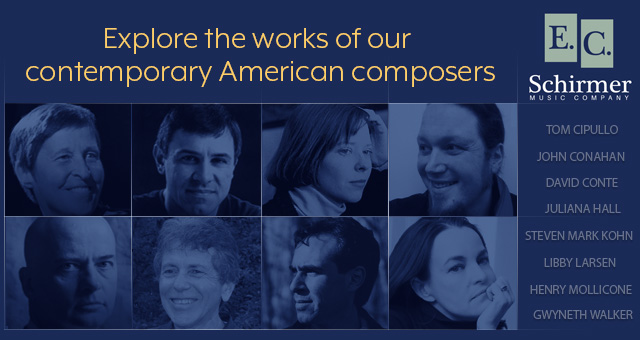 ECS Publishing Group is the parent company for the publishing imprints of E. C. Schirmer Music Company, Galaxy Music Corporation, and MorningStar Music Publishers. 
The E. C. Schirmer Music Company was founded in 1921 and includes the work of such great composers as Randall Thompson, Daniel Pinkham, Libby Larsen, and David Conte. The Galaxy Music Corporation was formed in 1930 and includes works by Ralph Vaughan Williams, Robert Ward, and Alice Parker. 
E. C. Schirmer is committed to forwarding American Art Song and Opera, and in recent years has added the works of Juliana Hall, Tom Cipullo, Steven Mark Kohn, John Conahan, and Craig Bohmler to name a few. 
Read more about our composers and works at: https://www.ecspublishing.com/nats
2020 E. C. Schirmer Vocal & Opera Catalog
View more information on Tom Cipullo